January 17, 1524
The European Explorers of New Jersey
The earliest European explorers of the Americas never caught even a glimpse of any part of the northern Atlantic coast.  Christopher Columbus explored and settled various Caribbean nations, while Amerigo Vespucci's explorations appear to have been mostly of South America, specifically,
September 6, 1609
Henry Hudson's Half Moon Explores Our Region
On September 6, 1609, the Half Moon, captained by Henry Hudson, after sailing past Highlands, is said to have landed on the shores of present-day Keansburg (although some historians argue that the landing took place at the tip of Sandy
January 3, 1703
William Leeds and Captain Kidd: Pious Men of God or Treacherous Pirates?
Monmouth Timeline story by Rick Burton On Wednesday, January 3, 1703, William Leeds Jr., a wealthy middle-aged Middletown resident, fully drew the mantle of God upon himself as he was baptized as a Christian. The rites of baptism have long
June 11, 1764
Sandy Hook Is America's Oldest Continuously Operating Lighthouse
Lighthouses have been aiding navigators for more than 2,000 years.  The first lighthouse in America was the Boston Light, built in 1716 at Boston Harbor.  Sandy Hook Lighthouse was the fifth lighthouse built in the United States, but it is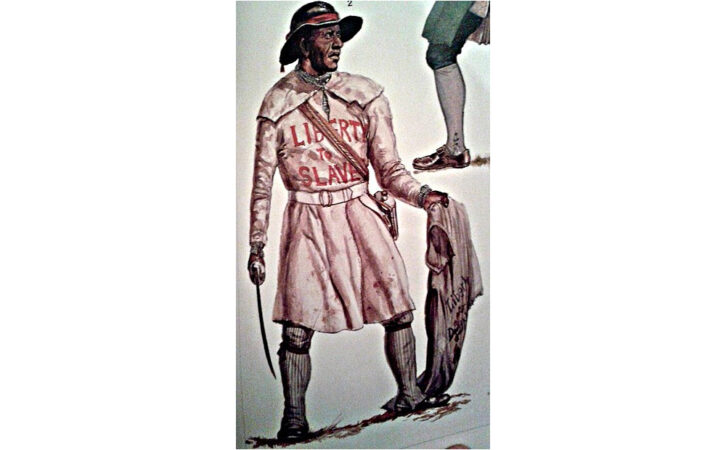 November 15, 1775
Titus Becomes Tye in Lord Dunmore's Ethiopian Regiment of Black Loyalist Soldiers
On November 15, 1775, the former Colts Neck slave named Titus, now calling himself simply "Tye," took part in the first armed conflict in American history involving an organized unit of African American soldiers. But they were fighting for the
February 13, 1777
Battle of the Navesink
On February 13, 1777, the militia of Monmouth County suffered "most severely" in an engagement known as the Battle of the Navesink, which took place in the area that is now Rumson and Highlands, and Sea Bright.   Particularly during
June 10, 1779
The Razing of Tinton Falls: 16 Dead in Waterfront Fighting Between Monmouth County Patriots and Loyalists
On June 10, 1779, a raiding party of about 100 Loyalists left British-controlled Sandy Hook and attacked Tinton Falls for the second time in six weeks, seeking guns, ammunition, food, supplies, and to arrest local leaders of the militia.  The
July 15, 1779
Colonel Tye and his Black Brigade Become the Scourge of Monmouth County Patriots
Col. Tye, now based in Refugeetown on Sandy Hook, along with other escaped slaves, black freedmen, and loyalists from Monmouth County as well as elsewhere.  Col. Tye begins a reign of terror, leading raids into his former neighborhoods at the
December 28, 1779
The Capture of the British Privateer Britannia by the Middletown Militia
By Maureen Foster Sandy Hook and the neighboring Highlands of the Navesink have always played an important role in the safety and defense of New York harbor. During the Revolutionary War (1776-1783), British troops and Loyalist refugees occupied Sandy Hook,
September 20, 1781
Battle of the Chesapeake
On September 20, 1781, Royal Navy Admiral Graves' fleet sailed from Virginia back to Sandy Hook after sustaining sufficient damage and loss at the hands of the French navy at the Battle of the Chesapeake (also known as the Battle
October 5, 1781
Privateer Adam Hyler, In Rowboats, Captures Five British Ships
On October 5, 1781, Captain Adam Hyler of New Brunswick led yet another attack on British and Loyalist merchant vessels in Raritan Bay; on this occasion, he and his oarsmen captured five valuable British ships within a quarter mile of
April 12, 1782
Up Goes Huddy
On April 12, 1782, about six months after the British commander Lord Cornwallis surrendered at Yorktown, effectively ending the Revolutionary War, Patriot militia Captain Joshua Huddy was removed from the infamous British Liberty Street Sugar House prison in New York
November 25, 1783
After the Death of Tye, The Black Brigade Soldiers On
Following the death of Colonel Tye, the Black Brigade came under the leadership of the African Bahamian soldier Stephen Blucke, whose Black Pioneers together with the Brigade made frequent raids from Sandy Hook into Long Island and New Jersey even
January 6, 1832
Wreckers! The Land Pirates of Monmouth County
Either the Barnegat Pirates are the most infamous scoundrels upon the face of the earth, or they are a much injured set of men. New Jersey State Senator Alexander Wurts of Hunterdon County, in a resolution adopted by the
February 15, 1846
The Wreck of the John Minturn: A Horrible Tragedy Implicates, but then Vindicates the Wreckers of Monmouth County and Inspires the First Federal Funding for Life-Saving Services
On February 15, 1846, a severe storm caused a number of horrifying shipwrecks along the northeast coast that were a shock even to a nation long accustomed to maritime disasters.  One of these was the John Minturn, a three-masted packet
January 12, 1850
Monmouth County's Wreck-Master Comes to the Rescue of the Doomed Ayrshire
The early life-saving stations from Sandy Hook to Egg Harbor were for the use of paid officers called "commissioners of wrecks," or "wreck-master," who were responsible for leading and coordinating marine rescue and salvage efforts. These men received about $200
August 22, 1851
The Courage, Skill, and Sacrifice of the Sandy Hook Ship Pilots
Editor's note: This article would not have happened were it not for the diligence and professionalism of a dedicated librarian, Caitlyn Cook, at the New Jersey State Library in Trenton. Ms. Cook was helping with my research on the wreckers
August 7, 1874
Sandy Hook Proving Ground
On August 7, 1874, U.S. Secretary of War William W. Belknap approved establishment of a proving ground at Sandy Hook for the testing of new long-range weapons. The need for such facilities had been felt for years, and became urgent
June 18, 1878
The Evolution of the U.S. Life-Saving Service
On June 18, 1878, Congress passed a new law that created the U.S. Life-Saving Service as a part of the Treasury Department.   Prior to then, it was included within a long-gone bureau of the federal government known as the
September 30, 1899
Guglielmo Marconi Demonstrates Wireless Telegraph in the U.S.
Guglielmo Marconi was an Italian physicist and inventor of wireless telegraph. In 1909 he received the Nobel Prize for physics, shared with Ferdinand Braun. On September 30, 1899, Marconi first utilized his wireless telegraph technology in the U.S., following successful
August 17, 1901
New Jersey Sandy Hook Ship's Pilot Boat James Gordon Bennett Cut in Half and Sunk by SS Alene off Sandy Hook
On August 17, 1901, a clear day, the steamship SS Alene ran down and sank the New Jersey Sandy Hook Ship's Pilot boat James Gordon Bennett, No.7, and three pilots and the cook drowned.  Pilot Fred Hopkins and Alexander Dexter
November 27, 1908
Panamanian Steamer Finance is Rammed and Sunk off Sandy Hook
On November 27, 1908, in a thick fog off Sandy Hook, the lightly laden Panama line steamer Finance, outward bound with 85 passengers, was rammed by the stout steel freighter Georgic, of the White Star line, and went down within
March 7, 1917
A Brief Timeline of Thomas Alva Edison in Monmouth County
Editor's note: Thomas Alva Edison (born February 11, 1847, Milan, Ohio; died:October 18, 1931, West Orange, N.J.) was "America's Genius Inventor," a man who averaged one patent for every 10-12 days of his life, including the incandescent light bulb, the
July 18, 1917
A Man Who Will Not Be Thwarted, Thomas Alva Edison Begins Conducting Submarine Defense Experiments from Sandy Hook
In early 1917, Thomas Alva Edison fell ill, and so his Naval Consulting Board moved on without him to recruit a scientific advisory group and build a new naval research laboratory. After he recovered, U.S. Navy Secretary Josephus Daniels suggested
August 19, 1917
The Incredible Story of the USS Sachem, Thomas Edison's Floating Laboratory, Later the Circle Line V, and Now a Ghost Ship in Ohio
Editor's note: For a full and very detailed illustrated history of the Sachem, and to support its preservation and restoration, visit the-sachem-project.org. By John R. Barrows The Sachem is a storied vessel.  Launched in 1901 as a luxury steam
August 13, 1918
Timeline Mystery: Did a World War I U-Boat Engage in an Artillery Battle with Fort Hancock?
The famous Prussian General Carl von Clausewitz is credited with first articulating the phrase, "the fog of war." He had observed that during a clash of armies it is often impossible for leaders to know precisely what is going on
November 25, 1923
End of the Line for Bill McCoy, King of the Rum-Runners
On November 25, 1923, Bill McCoy, possibly the most celebrated bootlegger of the Prohibition era, found his career as a smuggler at an end at the hands of the U.S. Coast Guard, off Sandy Hook. He was born William Frederick
June 10, 1939
King George VI and Queen Elizabeth Visit Red Bank
On June 10, 1939, King George VI and Queen Elizabeth of the United Kingdom visited Monmouth County as part of a visit to Canada and the U.S. The royal couple, known colloquially by the U.S. press as "Bert and
September 15, 2023
Artist Steve Schreiber Talks about his Newest Painting
The Middletown Militia Secures their Prize, December 30, 1779  ©2023 Steve Schreiber. Oil on Hardboard. Commissioned by Monmouth Timeline Inc., donated to Middletown Township Historical Society. Currently on loan and public display at the Middletown Township Public Library, 55 New
October 10, 2023
Book Review: Reaping the Whirlwind, by Dominic Etzold
Book Review: Reaping the Whirlwind, by Dominic Etzold  ©2023 Schiffer Publishing Ltd., Atglen, Pa., $34.99, available from Schifferbooks.com, Barnes & Noble, AbeBooks, Amazon, and other retailers. Book review by John R. Barrows The Battle of Monmouth is an