June 17, 1892
"Gentleman Jim" Corbett's Asbury Park Training Leads to Championship Win in The Fight of the Century
On June 17, 1892, James J. "Gentleman Jim" Corbett arrived in Asbury Park to begin training for "The Fight of the Century" against world heavyweight boxing champion John L. Sullivan.  William Brady, Corbett's manager, chose a cottage in Loch Arbour
October 4, 1901
Lewis O. Summersett – The Man Who Brought T. Thomas Fortune to Monmouth County
Editor's note: On or about October 4, 1901, a group of African American leaders from Monmouth County gathered in Red Bank to form a new political organization, the Afro-American Republican Union.  Executive committee members included William E. Rock, publisher of
May 4, 1902
Booker T. Washington Comes To Red Bank For Historic Meeting with T. Thomas Fortune
On May 4, 1902, Booker T. Washington, described at the time by the Red Bank Register as "probably the foremost negro statesman in the United States," was hosted by T. Thomas Fortune, the noted African American journalist and advocate, at
December 13, 1903
Sonny Greer, Duke Ellington's Drummer Extraordinaire
On December 13, 1903, William Alexander "Sonny" Greer was born in Long Branch.   Considered one of the greatest jazz percussionists in history, he is most famous for being the immortal bandleader Duke Ellington's drummer for 30 years. [caption id="attachment_1675"
August 21, 1904
The Legendary William "Count" Basie
William James "Count" Basie was born on August 21, 1904, in Red Bank. A pianist, he played vaudeville before eventually forming his own big band and helping to define the era of swing with hits like "One O'Clock Jump" and
March 26, 1917
Maury Jones of the Lafayette Flying Corps
By Mark A. Wallinger On March 26, 1917, a young man from Red Bank prominent in Monmouth County social circles left the United States and volunteered to join the French in their war against Germany, well before the U.S. entered
November 11, 1926
The Count Basie Theatre
The Count Basie Center for the Arts originally opened as the Carlton Theater on November 11, 1926. The theater was one of the highlights of nightlife in downtown Red Bank for many years. In 1970, after the Strand, Palace, Empire,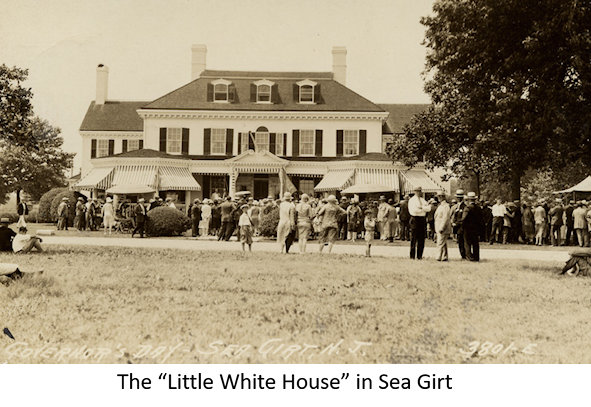 June 11, 1929
The President of the Red Bank Aero Club Crashes His Plane into the Governor's Residence
By Joseph G. Bilby ©2022 Oops.  In the early evening of June 11, 1929, William Taft of Red Bank, New Jersey, "president of the Red Bank Aero Club," decided to take a couple of friends, Mrs. William Jeanine and
March 24, 1930
Red Bank Airport – An Aviation Hub for Monmouth County
Editor's note: On March 24, 1930, the aviation facility then known as Airview Field was the scene of an accident, quite possibly for the first time, when an airplane attempting a night landing overturned, wrecking the aircraft.  Luckily, the three
March 23, 1933
Gangster Al Lillien's Unsolved Murder in Middletown Ends his Criminal Organization
On March 23, 1933, Alexander (Al) Lillien Jr. (born February 28, 1897), a "master liquor-runner," was found murdered in his Middletown mansion.  Lillien, 36, along with his brother William, controlled a bootlegging gang that extended from Montreal down to Virginia,
May 27, 1941
Fort Monmouth in World War II
On May 27, 1941, U.S. President Franklin Delano Roosevelt declared a state of unlimited national emergency in response to Nazi Germany's threats of military aggression.  The soldiers and civilians of the U.S. Signal Corps at Fort Monmouth had been very busy
May 4, 1959
Count Basie Wins Two of the First-Ever Grammy Awards
By John R. Barrows On May 4, 1959, the National Academy of Recording Arts & Sciences (NARAS), commonly called the Recording Academy, staged simultaneous award ceremonies in New York City and Beverly Hills, Calif., where 28 prizes were awarded to
February 14, 1969
A Monmouth County Funeral for Vito Genovese
On February 14, 1969, Vito Genovese dies of congestive heart failure, at the U.S. Medical Center for Federal Prisoners in Springfield, Missouri; he had been imprisoned at the United States Penitentiary, Leavenworth, Kansas.  An attorney for his estate said he
November 14, 1973
Marilyn Levy, A Genius Photo-Chemist at Fort Monmouth
By John R. Barrows On November 14, 1973, the U.S. Army Electronics Command (ECOM) presented the Army Research and Development Achievement Award to three civilian Fort Monmouth employees: Dr. Pete H. Hudson Jr., of Freehold; Louis J. Jasper Jr., from
May 23, 2019
The T. Thomas Fortune Cultural Center in Red Bank
On May 23, 2019, the T. Thomas Fortune Cultural Center officially opened in Red Bank. This new community organization is headquartered in the fully restored T. Thomas Fortune House, one of the most historically significant properties in the United States.