June 6, 1896
Two Men from Atlantic Highlands are First to Row Across the Atlantic Ocean
On June 6, 1896, George E. Harbo and Frank Samuelson departed New York City in a specially made rowboat and headed for Le Havre, France, on an ocean journey that would last 55 days and cover 3200 miles. Harbo, 27,
November 21, 1897
A Timeline of Vito and Anna Genovese in Monmouth County
Editor's note: Vito Genovese was involved in criminal activities from his early years in New York City and continued to run the rackets even after he was finally behind bars for good.  His nefarious deeds have been extensively chronicled elsewhere
October 16, 1929
Bootlegger Compound Raided in Former Middletown Home of Oscar Hammerstein Sr.
On October 16, 1929, at the height of Prohibition, federal agents raided an isolated house atop the ridge in the Navesink section of Middletown, overlooking Sandy Hook Bay (pictured above...the person in the photo is unidentified). Before 1920, the house
March 30, 1932
Vito Genovese Takes a New Bride
On March 30, 1932, Vito and Giovaninna "Anna" Petillo (nee Vernotico) were married in New York.  Anna ran nightclubs and gay bars in Manhattan during these years, some of which were not on the mafia books.   It was the
March 23, 1933
Gangster Al Lillien's Unsolved Murder in Middletown Ends his Criminal Organization
On March 23, 1933, Alexander (Al) Lillien Jr. (born February 28, 1897), a "master liquor-runner," was found murdered in his Middletown mansion.  Lillien, 36, along with his brother William, controlled a bootlegging gang that extended from Montreal down to Virginia,
June 28, 1935
Vito and Anna Genovese Move to Middletown
On June 28, 1935, Vito Genovese purchased a 35-acre (other accounts set it at 42 and 24 acres) property at 152 Red Hill Road in Middletown from Mrs. Florence Sperling.  The estate was originally part of a large farm owned by
December 13, 1935
Vito Genovese, American Citizen of Good Moral Character
On December 13, 1935, while the family was living in Middletown, Vito filed a petition to become a naturalized U.S. citizen.  On November 25, 1936, his petition was granted and Vito became a U.S. citizen in New York City.  On
February 23, 1937
The Genovese Middletown Mansion Burns While Vito is in Exile in Italy
On February 23, 1937, the Middletown mansion that was home to "king of the rackets" Vito Genovese and his wife Anna, and their children, burned down.  An oil burner was thought to be at fault, but the exact cause was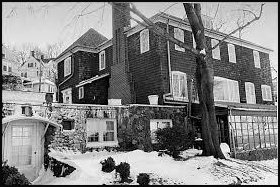 August 27, 1944
Vito Genovese Returns to America, and to Monmouth County
On August 27, 1944, Vito Genovese was placed under arrest in Italy by U.S. Army Criminal Investigation Division Agent Orange C. Dickey, who had recognized Vito from wanted posters.  With the war nearing an end, Dickey had difficulty finding anyone who
July 10, 1947
Vito Genovese Asserts Himself on the Monmouth County Docks
On July 10, 1947, Vito Genovese, Andrew Richard, and Louis and Dominic A. Caruso formed a new corporation called the Atlantic Highlands Wharf Company, that "handles freight and passenger transportation at the yacht harbor."  The company acquired the railroad pier
March 26, 1950
Vito Genovese and His Son Run Into Trouble in Freehold
On March 26, 1950, Philip Genovese, 18, son of Vito and Anna, driving his father's car, crashed into a parked vehicle on Route 9 in Freehold, injuring five people. The initial newspaper report at the time erroneously stated that Vito was
December 8, 1952
Anna Genovese vs. Vito Genovese
On December 8, 1952, Anna filed a lawsuit against Vito Genovese in Superior Court in Freehold, seeking $300 monthly "separate maintenance" financial support for her and son Philip, and $5,000 in attorney's costs.  In the initial hearing before the Chancery Court
March 2, 1953
Anna Genovese, A Scorned Mob Wife, Testifies Under Oath in Open Court
On March 2, 1953, Anna Genovese took the stand in her "separate maintenance" case and testified before the judge in Superior Court in Freehold County Courthouse.  Anna's attorney was Osie M. Silber, a deputy attorney general.  She asked the judge for
March 3, 1953
On Day Two of the Trial, Vito's Witnesses Testify
On March 3, 1953, the second day of Anna Genovese's Freehold trial where she sought "separate maintenance" financial support from her estranged husband Vito, 22 witnesses were called who would testify mostly on behalf of Vito.   Anna took the
March 4, 1953
Vito Genovese's Enemies Prevail In New Jersey Court
On March 4, 1953, just two days after Anna's explosive open-court testimony, the Caruso Construction Company of Atlantic Highlands won a lawsuit against Vito seeking $32,724 for labor and supplies for the 130 Ocean Blvd. mansion, for which no payment
November 14, 1957
The Meeting at Apalachin: The Beginning of the End for Vito Genovese
By the late 1950's, it was estimated that there were between 25 and 30 major organized crime families across the United States, with an army of approximately 5,000 "made men," or formal members. On November 14, 1957, more than 100
July 7, 1958
"King of the Rackets" Vito Genovese is Arrested and Convicted for Narcotics Crimes
On July 7, 1958, narcotics agents of the U.S. Treasury Department placed Vito Genovese under arrest at his home on Highland Avenue in Atlantic Highlands. Along with his longtime associates, Vincent "The Chin" Gigante, and Carmine Galante, Genovese was named
February 14, 1969
A Monmouth County Funeral for Vito Genovese
On February 14, 1969, Vito Genovese dies of congestive heart failure, at the U.S. Medical Center for Federal Prisoners in Springfield, Missouri; he had been imprisoned at the United States Penitentiary, Leavenworth, Kansas.  An attorney for his estate said he
November 8, 1977
PS Alexander Hamilton – A National Historic Site You Can't Visit
On November 8, 1977, during a storm, the Passenger Steamship Alexander Hamilton caught fire and sank next to the Navy Pier in Raritan Bay, where she remains to this day, off-limits to visitors. In her heyday, she carried 3,500 passengers
May 12, 2021
A Simple Question
A certain house said to be located in Atlantic Highlands is the subject of two stories in the Monmouth Timeline, both related to Prohibition and smuggling. On October 16, 1929, Federal agents launched a major assault on illegal liquor in