September 2, 1609
Henry Hudson First Arrives at Navesink Highlands
On September 2, 1609, Henry Hudson approached the Navesink Highlands area. A crew member, Robert Juet, kept a daily journal of this famous exploration, and entered in his journal his impression: 'This is a very good land to fall with,
November 8, 1735
A Timeline of Patriot Martyr Joshua Huddy
Joshua Huddy was a Revolutionary War soldier who became renowned through his untimely death: he was hung by American Loyalists at Highlands in 1782, months after the Battle of Yorktown, the last major military engagement of the war.  Patriot outrage
December 28, 1779
The Capture of the British Privateer Britannia by the Middletown Militia
By Maureen Foster Sandy Hook and the neighboring Highlands of the Navesink have always played an important role in the safety and defense of New York harbor. During the Revolutionary War (1776-1783), British troops and Loyalist refugees occupied Sandy Hook,
April 14, 1782
Outrage Over the Martyred Joshua Huddy
When a group of Middletowners discovered Huddy's body hanging from a makeshift gallows on a spring day in 1782, an overturned barrel at his feet and a vengeful placard on his breast, they had no idea that Huddy's death would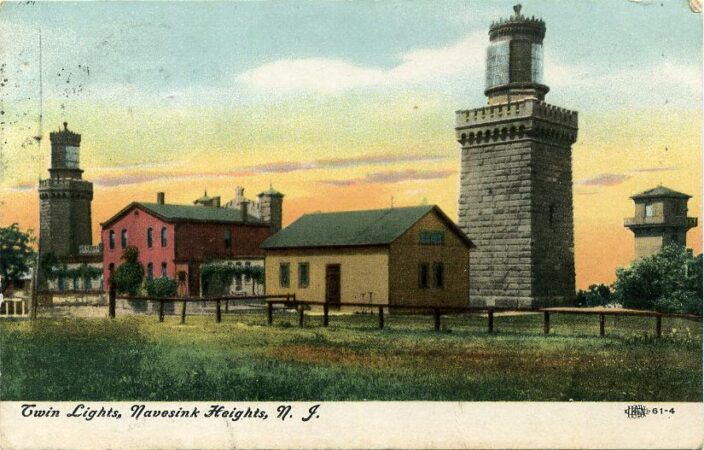 May 18, 1826
The Original Twin Lights of Navesink
On May 18, 1826, the U.S. Congress appropriated funds for a new lighthouse to be located in Highlands, which would become known as the Twin Lights of Navesink. Congress allocated funds to allow 2¾ acres of land to be purchased
May 1, 1862
The New Twin Lights at Navesink
On May 1, 1862, the lamps of the new lighthouse, Twin Lights at Navesink, were lit for the first time.  The original Twin Lights of Navesink were first lit in 1828. By 1857, the original structure had fallen into disrepair.
March 23, 1933
Gangster Al Lillien's Unsolved Murder in Middletown Ends his Criminal Organization
On March 23, 1933, Alexander (Al) Lillien Jr. (born February 28, 1897), a "master liquor-runner," was found murdered in his Middletown mansion.  Lillien, 36, along with his brother William, controlled a bootlegging gang that extended from Montreal down to Virginia,
May 27, 1941
Fort Monmouth in World War II
On May 27, 1941, U.S. President Franklin Delano Roosevelt declared a state of unlimited national emergency in response to Nazi Germany's threats of military aggression.  The soldiers and civilians of the U.S. Signal Corps at Fort Monmouth had been very busy
February 11, 1945
The Tragic Mystery of U-869, a.k.a. "U-Who?"
Editor's note: On February 11, 1945, two U.S. destroyer escorts, the USS Howard D. Crow and USS Koiner, attacked what they believed to be a German submarine off the coast of New Jersey.  The two ships were accompanying a convoy